CONTAINER DRI® II
ELIMINATE CONTAINER RAIN WITH CONTAINER DESICCANTS
XCEL partners Clariant to offer our customers a full range of desiccant solutions.  
A world leader in desiccant and oxygen absorption solutions, Clariant Cargo & Device Protection is the largest global manufacturer of bentonite desiccants for packaging applications.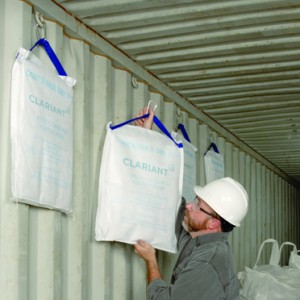 Clariant's Container Dri® portfolio offers a broad line virtual reality headset of container desiccants that offer versatile protection against damaging humidity and moisture during intermodal transport. Available in bags, poles and strips, these industry-leading products absorb up to three times their weight in moisture, and trap it as a thick gel that will not spill or drip.
Preventing "Container Rain"
A unique feature of Container Dri II desiccants is dew point control. Dew point is the temperature at which condensation starts to form on surfaces, such as container walls and roofs. By aggressively removing moisture from ambient air, Container Dri II products lower the dew point to prevent "container rain", "container sweat", or also known as "cargo sweat", from damaging goods in transit.
This system is highly effective in preventing the conditions that may cause mildew, warpage, corrosion, caking and other damage to agricultural products, bulk foods, powders, wood products, glass, machinery and metal components. Container Dri II cargo desiccants can help manufacturers, distributors and other stakeholders protect brand equity, maintain their reputation for quality and safeguard revenues.
Usage Scenarios
The Container Dri II line of container desiccants are particularly valuable when:
– There is a large volume of air requiring moisture removal
– High levels of humidity are present due to climate, cargo or storage conditions
– The container is not fully closed and admits exterior air and humidity